Gary McCormick (Associate Broker)
This email address is being protected from spambots. You need JavaScript enabled to view it.
412-261-6532 - Ext. 247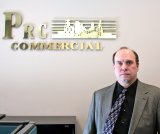 Gary McCormick has been involved with commercial real estate since 1988, initially as a headhunter for a national recruiting firm. He then worked at Kossman Development as in-house Tenant Coordinator for five years, addressing tenant concerns and problems for an investment portfolio including regional malls, office parks, apartments, mixed use buildings, strip shopping centers, and a downtown office tower. He has been a licensed real estate agent since 1991 and a broker since 2003.
As a commercial agent then broker, he handled government, office, retail and industrial leasing and sales. He has done site selection for  Meinecke Muffler, Dairy Queen, and a host of other national franchise operations.
In 1996, Gary joined H-Squared Properties, a Pittsburgh based, privately owned redevelopment firm. He handled the leasing of the Manor Oak Complex which included coordinating leases for a 160,000 sq. ft. asbestos abatement program. He also marketed and leased an ex-dairy processing building during its rebirth as an office/retail complex.
His commitment to his client's needs, background in marketing, leasing negotiations, and market knowledge make him an asset to any building owner.